Our ships are Duffy boats which we had custom built and imported from the US. We went through that extra trouble because they're just perfect for the canals of Amsterdam.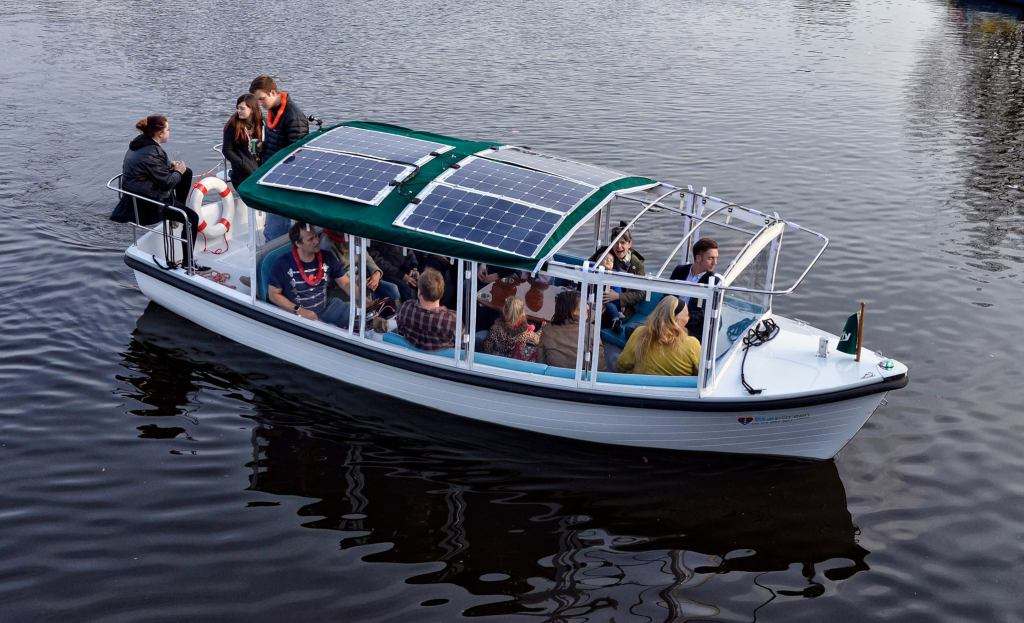 Blue in Green
The Blue in Green has solar panels and a little back deck with 2 seats. The maximum seats is 10.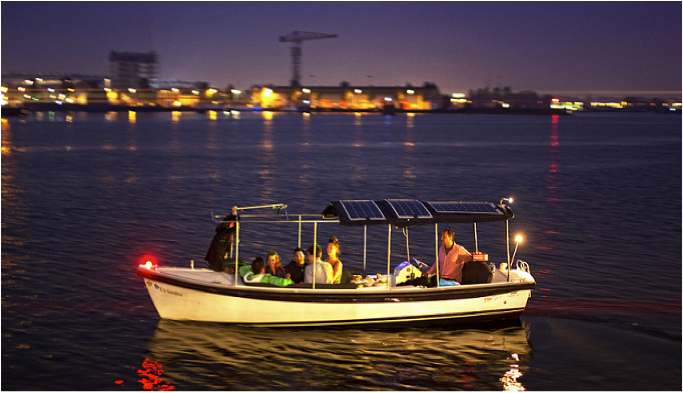 Gordita
The Gordita is our fully electric boat. The Gordita has a fridge. The maximum seats is 10.
WHAT MAKES THEM SO SPECIAL?
They:
Are incredibly comfortable. What's more, they're very social. In the front, there are ten seats around a central table so that you can have a conversation, share a snack and enjoy a drink. There is even a balcony on the back where you can go if you want to snap that perfect picture or are just too excited to sit still.
Are fully electric and solar. We care about the environment. After all, we're Dutch and we know the power of the sea. But that's not the only advantage of having an electric boat. Another big one is that they barely make a sound. That means you can listen in on Dutch street life and have a normal conversation instead of having to scream to be heard over the whup whup whup of the motor.
Are very manoeuvrable. These ships turn on a dime and they've got particularly low roofs. And that matters in the canals of Amsterdam, where the bridges are low and the canals narrow. For this reason, we don't need to stick to specific routes and can instead pick you up where you like and go where we want.
Have retractable roofs and windows. And that's useful in a place like the Netherlands, where the weather is as indecisive as a child with a €10 euro bill in a toy store. But we don't have to worry about that. If it rains we put up the roof and slide in the windows. If it doesn't, then you get to sit in the sunshine. We even have heating and blankets!
Are personable. The boats fit 10 people comfortably and give you a 360 degree view of your surroundings. In this way, you can easily share with the rest of the passengers what you just spotted. It also makes it incredibly easy to ask questions of the skippers as he or she is at most just two arm's lengths away.
We have a fridge on board, so feel free to bring food and drink to relax by as you cruise through the World Heritage canal district. Do make sure that you also bring cutlery, plates and cups. We do try to have these on board, but sometimes they run out. Besides, if you bring your own then we'll use less plastic. And we're all for that! Do note, for safety reasons we don't allow glass on board.
Enjoy the Canal Tour of a Lifetime!