Sure, we're a bit biased. But for us it's obvious that Amsterdam's water festivals are some of the coolest things since bell bottoms. They combine two of our favorite ingredients – water and fun.
That's a powerful combination.
And Amsterdam has some of the best such festivals around. In our minds, the only one that competes is the Thailand's Songkran or new year festival. Admittedly, that one is pretty awesome too. But it's only once a year, in the beginning of April and half a world away!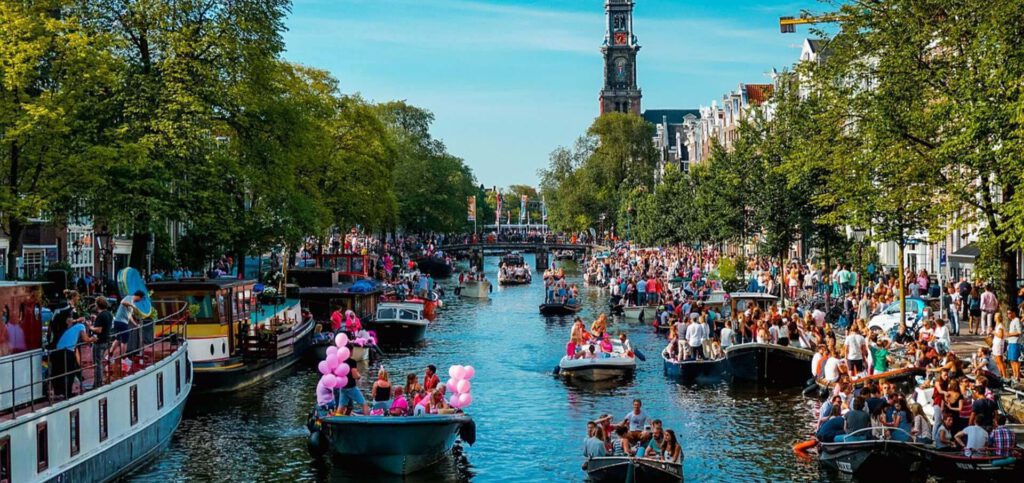 That's not true of the Amsterdam festivals. Though many are in summer, there's pretty liberally scattered across the year – much like Santa's assistants throwing their candy. Sweet little nuggets of goodness!
To help you make the best of these festivals, we'll explore some of our favorites. In that way, you'll know what's up and coming, where to go to enjoy it and what you can expect.
Do note, the dates given below are for the year 2018. Admittedly, they don't actually shift around that much year on year, but they do move a little. So, make sure you check!
Thinking about bringing the children? Despite the presence of alcohol at these parties, they are still kid friendly. That includes Kings day and Gay Pride. The Dutch have been bringing their little ones to these parties for decades and so far they haven't ended up too emotionally scarred so it should be safe. 
Kings day – 27th of April
Probably the most famous Dutch party of them all, King's day is such a big festivity that if you're located anywhere in the city, for a night and a day you're basically in the middle of a huge party.
During the festivities, the city's population more than doubles, with people celebrating up and down every street and waterway. Public transport stops, driving a car becomes impossible, and the city becomes a string of open-air markets and street parties.
Planning to relax and see the sights? Then don't come on at the end of April! On the other hand, if you want to experience one of the best parties this city has to offer, come on down! It really is something you'll never see anywhere else.
As for the canal aspect. The waterways are in some ways the quietest part of the city. Onboard a ship, you can watch the madness on the shoreline while getting to be apart from it for a little while. And trust us when we tell you, that can be a real blessing because the Dutch know how to party!If you want to come for the festivities, book your hotel early. A lot of other people have the same idea, you see. Read more here.
Bevrijdingsdag concert – 5th of May
Liberation day is a big deal in the Netherlands. There are tons of concerts all over the country as well as parties and other festivities. But the main event is without a doubt on the Amstel river, right by Carré theater on a giant floating pontoon.
If you don't have a boat, then make sure you arrive early, so you can get a seat on the famous Skinny Bridge. From there, you can listen to the music and see how many Dutch celebrities you can spot. The royal family almost always attends – so it's a great opportunity to try to catch a glimpse of Willem Alexander and queen Maxima. 
Over het IJ Festival – 13th to 23rd of July
The Over The Egg festival (no actual eggs involved) is a summer theater and arts celebration that's held on the other side of the IJ river, on and around the NDSM Werf. Don't want to swim? Then you'll be happy to know there are free ferries leaving several times per hour from behind the central station.
The shows themselves will be presented in shipping containers. Admittedly, a lot of the theater is in Dutch. So, if you don't speak the language it will sound like people coming together to torture the letter 'g'.
Fortunately, there are also performances in English and even ones without words. You just have to check. There will also be a lot of good food and the atmosphere is incredibly positive (provided you can ignore the suffering of that poor consonant).
Their website is in Dutch. I am Amsterdam provides information in English about the event.
Gay Pride Canal parade – 4th of August
Amsterdam prides itself on its inclusivity. So, it shouldn't come as too much of a surprise that the Gay Pride is a big party. It has long since grown beyond the gay and lesbian community to become a general celebration of Amsterdam's liberal ideals, no matter what your sexual orientation might be.
Gay Pride itself is a multi-day affair that stretches from the 28th of July to the 5th of August with street parties on the 3rd, 4th and 5th. The Canal parade, in the meantime, falls on the 4th. It follows the Prinsengracht, a part of the Amstel and the Nieuwe Herengracht. 
As the parade itself moves you don't have to! You can just stake out a spot along the route and wait for it all to come to you. That's means you don't need to lug all your drinks, outfits and drunk friends along the whole route!
Do note, a lot of people come to this event. In 2017 there were more than half a million spectators. So, if you want to actually see something and get some good pictures, you'll want to arrive at least a few hours early. That is not an exaggeration.
Alternatively, you can try to get on board one of the many boats that are parked along the canal's edge and watch the festivities with an unobstructed view from there! Now if you only knew a boating company which hires out its boats for this day, aye? Nudge, nudge. Nudge, nudge.Check out the Gay Pride website for more information.
Grachtenfestival 10th to 19th of August
This year will be the 21st rendition of the canal festival and there are expected to be an impressive 250 performances in 90 different locals. The music on offer is mainly classical and jazz and will be performed by bands and orchestras from all around the world. And of course, sticking with the theme of this post, all the venues are on or close to the city's canals. Isn't that considerate of them? It's like they knew we were going to write this article!
This year's theme is 'closer to the music'. Check out their website to find out who is playing. They have an English button in the menu bar. Hopefully as we get closer to the actual date that button will translate a bit more than it does right now. At least the musician's bios are already in English!
Tickets will go on sale on the 21st of June, at which time they'll also specify the performance schedule.
Prinsengracht concert 18th of August
The Prinsengracht concert forms a part (and the highlight) of the Grachtenfestival. A temporary stage is built on the Prinsengracht and an evening of classical music is performed out in the open, for everybody to enjoy.
During the event, lots of little boats would collect around the stage, creating a kind of impromptu sitting area to complement the space put out by the organizers. This creates a wonderful atmosphere, as people trade food, drinks, and a love of stories across the waters of the canal.
Of course, you don't need to be in a boat to see it. You can just as easily stand on the shore and listen in. Do note, it gets pretty crowded so if you want to look as well as listen, go get a spot early.Their actual website is in Dutch. I am Amsterdam provides an overview in English.
Amsterdam City Swim 9th of September
Most of the other festivals were on the water. This one's in them. Nice, right? If your reaction is 'No, yuck, that water is filthy!' then I've got news for you. The canal water might look like it's piped right out of your toilet, but it's actually really clean! Queen Maxima even participated in this 1.5 km swim. And as none of her children have two noses or tentacles, so that seems like a pretty good indicator to us! 
The best part? You can still register to join in on the swim! https://www.amsterdamcityswim.nl/inschrijven (in Dutch). And if you do take part, you'll get to wave to all your friends back home. Well, home in Holland anyway. That's because this is a nationally televised event! Even if you don't dare the water, it's still worth going as after the swim there's a big party with live bands and you can congratulate those who did.
Muziek in het Zeven Bruggenkwartier 1st till 8th of October
This chamber music festival is held in one of the prettiest parts of Amsterdam – the Reguliersgracht and the surrounding area. Over seven days, they celebrate 400 years of music. Though our most recent century does not seem to be among those featured.
This year's schedule includes Franz Schubert, Faure and Bach and covers some of the most amazing locales around the city, such as the Vondel Kerk, the Goethe Institute and the Wooden Amstel Church.
Admittedly, it's a bit hoity toity. But if you ask us, life is all about sampling variety. So why not sample the high life?    
Amsterdam Light Festival November 29th till January 20th
Amsterdam is very far north. In fact, it's even further north than Vancouver! As a result, during the winter the nights get long. In January we only get about seven hours of sunlight a day! Yeah, admittedly that's not great fun.
But all those hours of darkness do give us a fantastic opportunity to create light-based art. That's the idea of the Amsterdam Light Festival. For close to two months artists display artworks made with light along and close to the canals of Amsterdam, which add something magical to these dark days.
There are a lot of ways to see it, from simply walking around, getting a guide or taking a boat tour and getting up close and personal. Check out their website to get an idea of what will be on display.
SAIL – 12th to 17th of August (every 5 year)
Why are we talking about a festival that's still two years away? One word: Boats. Lots and lots of boats. (Okay, six words). We love boats and for that reason, love a festival that celebrates them. SAIL, as the name implies, is about sailing ships. And boy, do they bring a lot down to the city!
The last time the festivities were held, in 2015, there were over 600 of them – from ocean-going giants to their river-faring brethren. From three-masters to little skiffs. And as the festival keeps getting more popular, we can well expect that the next time it gets held there will be even more such boats.
Floating among them is a real joy that brings back the times of yesteryear, when Amsterdam relied on such boats to ply the waves and ship their wares to every corner of the world. Even if you don't decide to go out on the water, there is still plenty to do. The city gets divided into themed 'oceans' which each have their own take on the festival.
So, if you love ships, sails and the city's colorful history, make sure you jot this one into your calendar. Because if you miss this one, you'll have to wait another five years!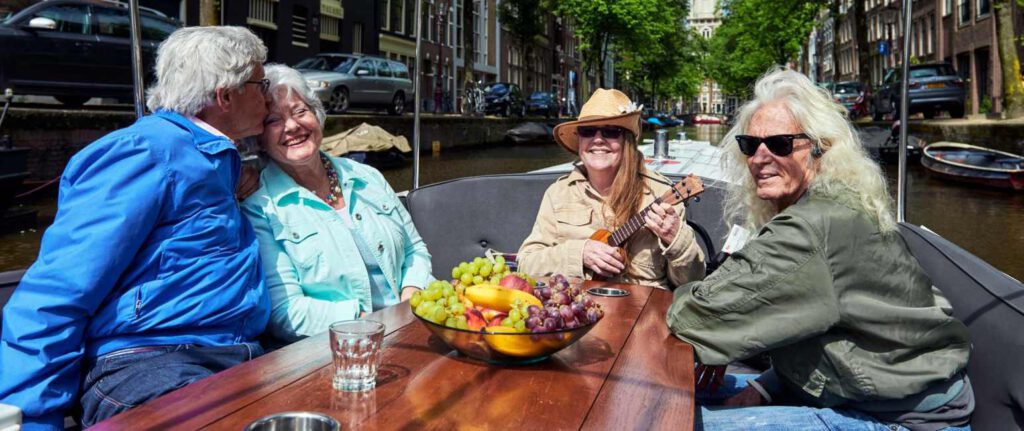 Sign Up for our Newsletter: