Wow, is the weather nice! And like always, the Dutch are just soaking it up. Sick days have soared, businesses are closed and terraces are so packed it took us 40 minutes just to find a table yesterday. Even better, as it has been hot for a while now, the water temperature is getting to where we can actually go swimming!
That begs the question, where to go. More places than you might imagine. You see, like we mentioned previously, the canals of Amsterdam are swimmable. Paap often jumps in the water – both for his own enjoyment (sometimes) and to help untangle a rope from a prop (more often). And he's still as healthy as a (slightly overweight) horse!
Of course, some places are better than others. For one thing, a lot of trash ends up in some canals. For some reason more often in the touristy places like the red light district than elsewhere (do you think it's connected?).
For another, as boats propel themselves forward by way of a disk of spinning knives, you don't really want to swim near them. Particularly as the bigger the boat, the more water (and whatever is in it) it sucks towards its propeller.
To that end, today we'll point out some of the best places in Amsterdam where you can swim in natural water without risking health or bodily harm.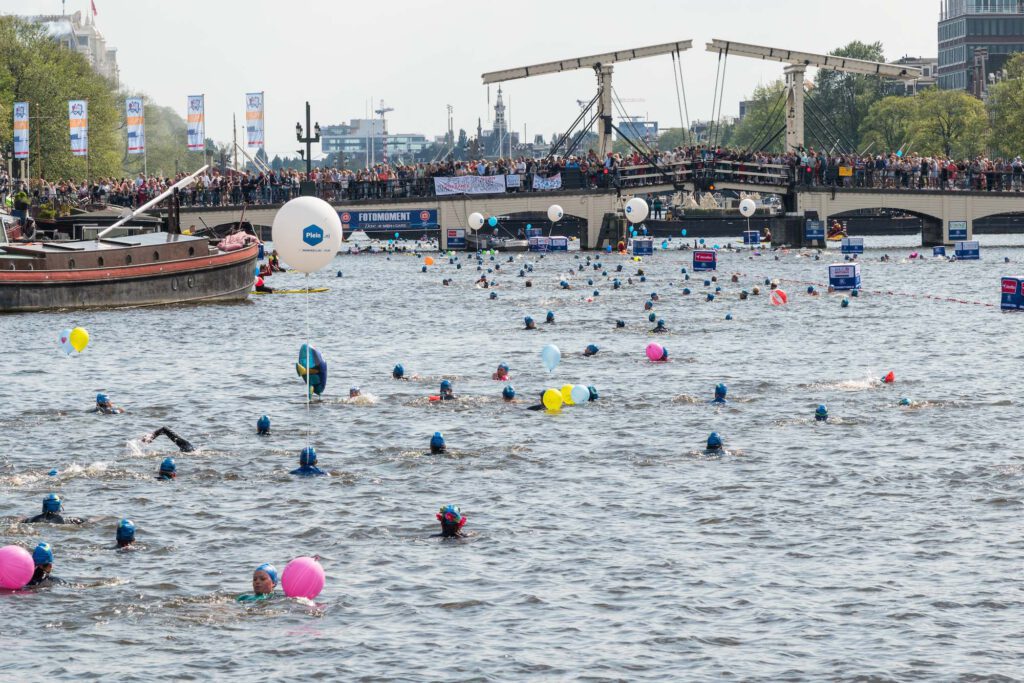 If you go up the Amstel river, very quickly you'll leave the city behind and end up in some stunningly beautiful nature. There, the river is calm and clean. A great trip idea is to take a boat trip up that way and stop off every so often for a short swim as you go. There are some really picturesque villages further up the river, like Ouderkerk or old church. (Google map link).
Yes, you can also access the Amstel by bike. Though, you might want to take somebody who knows their way around as it's not always easy to find a place where you can get to the water. Your best bet is to look for private docks and ask if you might jump off of them a few times.
Amsterdamse bos & Nieuwe meer
The Amsterdam forest (Google map link) has two pools for the kids to go swimming in. It also has a lake known as the 'Grote Vijver' or big pond where you can wade in as a kidless adult without people calling the police. For an added bit of adventure, you can jump off the bridges around the pond. Though you should probably check if it's deep enough first.
The new lake, (Google map link), is right next door to the Amsterdam forest. The lake is much bigger than the pond, can be accessed by boat and is surrounded by green and forest. It's one our favorite locales when the weather is like this.
A while ago some people thought, 'you know what Amsterdam needs? A beach.' So, they built one. They called 'happy castle on the sea', which is a pretty cool name for a beach (Google map link). Admittedly, it's a little bit out of town. Fortunately, it's easy to get to. If you take tram 26 from central station to the last stop, you're really close. It's just a 15-minute walk, after which the water will be just that bit more appealing!
The beach is on the IJ meer or egg lake, which used to be part of the Zuiderzee or south sea. It was dammed (as in they built a dam across it rather than sending it to hell – though for the salt-water fish living there it came down to the same thing) a few decades ago. That means the water is almost entirely sweet now. So yeah, the name isn't exactly accurate anymore. But then one of the oldest buildings in Amsterdam is called the 'New Church', so that's not that unusual.
There are also a lot of festivals held here. So, you can swim by day and party by night. Check out their website (in Dutch) to find out what's going on.
The Ceuvel is a new bar situated just across the water from central station (Google maps link). They have their own harbor, boats that serve as hotel rooms and – of course – places to swim. Even better, the free ferry from central station to Buiksloterweg docks only a few minutes away from the place, so you can get there easily with public transport or on your bicycle.
Not taking your car fits right into the place's theme, which is all about sustainability. The whole place is built up out of old houseboats and similar recycled materials. This gives the place a really nice atmosphere.
A little bit off the beaten track but still really close to the center of Amsterdam, the Prince island is a great place to (Google map link). And not just for a swim either! It's a really pretty and alternative, with lots of artistic ateliers along the waterfront.
The whole island is surrounded by a set of canals, which are great for a quick dip. There are also several bridges that you can jump off, if you really want to make a splash. There aren't as many boats here as elsewhere in the canals, which makes it a great choice if you're not that keen to face plant a ship's hull.
This former shipyard has been renovated into a beach area with bar, music venue and playground (both for adults and kids). It's called 'rust' and it's located in Oostenburg, about 15 minutes by foot from central station (Google map link).
As an extra bonus they also hold plenty of festivals and events throughout the year. Music and water are just a naturally great combination, even if we do say so ourselves! Here's their schedule (in Dutch).
The drainage ditch puddle is a lot nicer than the name implies. It's a big lake with a sand beach on the northern end. This means that, along with Blijburg, it's one of the most authentic beach experience you're likely to get near Amsterdam. As an extra bonus, the city has installed a barrier out in the water, which means that swimmers and boats are kept neatly separated.
The lake is located in Amsterdam West (Google map link). Do note that it's a pretty big lake, so if you want to go to the beach make sure you end up on the right side. Otherwise you might have to do a bit of walking.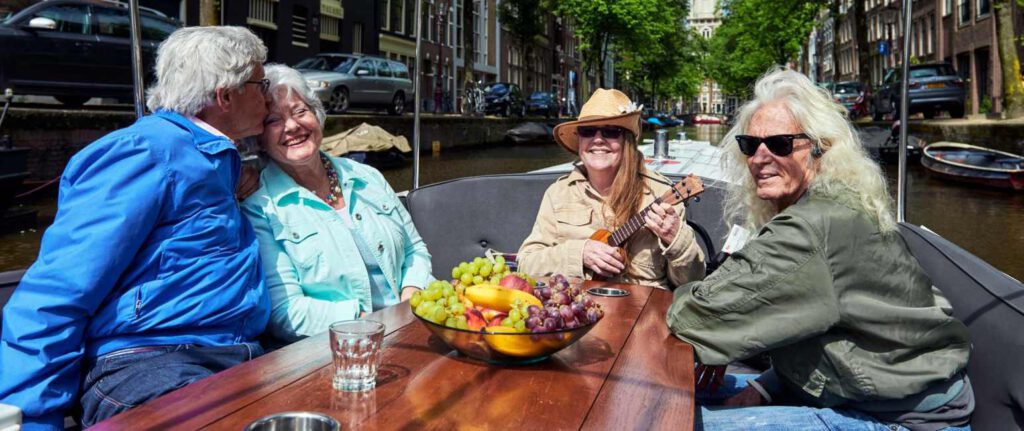 Sign Up for our Newsletter: