Often, the center of Amsterdam is all you need. But then there are those days, perhaps at the height of summer when you've only just managed to avoid your third tourist who blithely stepped out onto the bicycle path, that you're desperate for something else. On those days, why not try Amsterdam West? It's an absolutely awesome neighborhood! 
Because though Amsterdam west might not be as old as the city center, there's still plenty to do here. In fact, we feel there are enough activities and sights to make many other city centers green with envy. And we should know, because this is the place rederij Paping calls home! 
Here are a few of the things we, as neighborhood insiders, particularly enjoy:
The School, on the Jan van Bremer Straat, used to be a technical school but nowadays, in the spirit of reduce, reuse and recycle, serves as a restaurant / café and sport facility. The theme is 'hip neighborhood gathering centre' and they execute it well, with their interior style feeling very retro 70's / Bauhaus / minimalistic. 
For us a particular highlight is their restaurant. We're especially fond of their Avocado and Poached egg sandwich; nice and healthy.
They have a lot going on besides food, though. Including symposiums, talks, movies and a whole lot more. Check out their schedule to see if you find something that meets your fancy. Alternatively, take a look at their blog where they explore a wide range of topics, do interviews and discuss events. 
Definitely a place high on our list to just go there, hang out, and see what happens.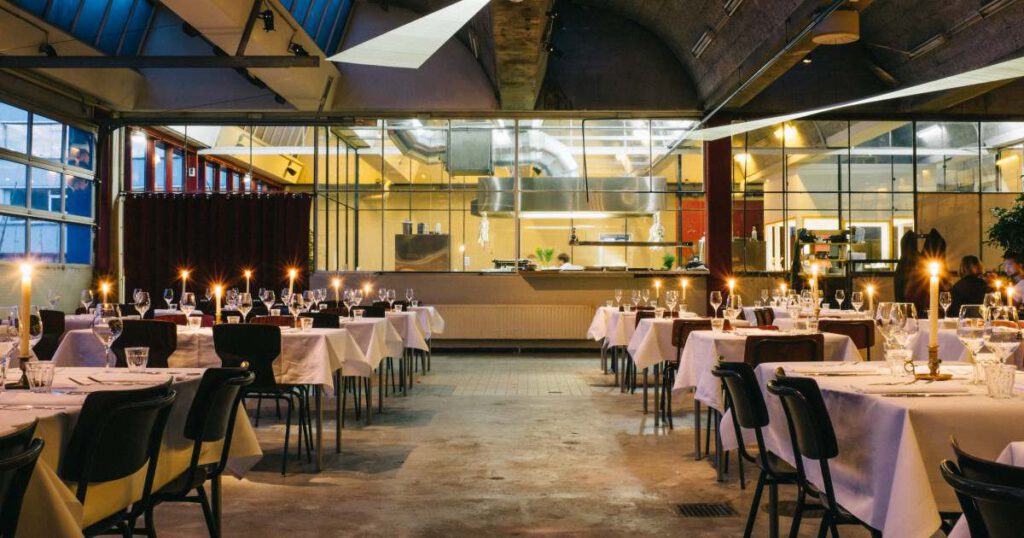 Another space that used to be something different, The Halls were formerly a tram station, but have since been transformed into a cultural complex. Here you'll find a food court, a movie theatre which shows everything from blockbusters to docus, a shopping area, an art gallery, and even a library. Yes, we do still have those here. After all, it's hard to beat the feeling (and smell) of paper.  
There are also some events which are a little less common but definitely worth checking out if you manage to go down at the right time. Top among these is the once-a-month Makers market where makers sell their wares directly to the public. If this falls during a visit or a free day if you live here, it is worth going down there just for this. 
But the main reason we go down that way is for the food hall. They've got a bunch of stalls selling a wide range of foods, which includes Vietnamese, Flammkuchen, Korean, Sushi and Vegetarian! And that means whatever your food itch, you're bound to get it scratched here. One thing to note, if you're of the 'more is better' school of thought, then you might be a little bit disappointed as there are only about 20 stalls here. But they more than make up for what they lack in quantity with quality. And ultimately, that's what matters, no?
Most neighborhoods in Amsterdam have their own markets. That's true of west as well. This market, which is open six days a week (except Sundays), is a great choice for those looking to get fresh produce, Dutch foods and plenty of other things, besides. This open-air market has over 100 stalls for you to check out; making it one of the biggest markets in Amsterdam. 
Even better, this market is that it's located right near the Halls from the heading above, so you can check them both out in one go! The prices here are pretty good and often beat supermarket prices. To save that little bit extra, come in at the end of the days as many of the stalls start offering discounts. That's always helpful in a city which seems to be getting more expensive by the day.
Do note, as the Dutch pride themselves on being green, take a shopping bag. That's not to say they don't have plastic bags, but you can be pretty sure when you ask for one of those, you'll get a comment as well.
Amsterdam has a lot of green areas, and while the foreigners prefer the vondel park, among the Dutchies themselves, the Westerpark scores right up there. That's because it isn't just a park. You can also find bars, clubs, kindergartens, a movie theatre, a cool playground and a whole lot more dispersed along its length. 
And the jewel in the park's green crown would have to be the Westergas or Western Gas (factory). This, in a common theme you've probably noticed in this article, used to be one thing but today is another. Today, it's a huge hall where they hold tons of events and people from all over congregate. Many of these events are world famous, including TedX Amsterdam and huge concerts.
As the park stretches for quite a distance, be sure to take a bit of time to explore its length. Particularly, as the further you drift from the center, the more rustic the park becomes, with some awesome things all the way in the back, including a petting zoo. Do note, 'rustic' in this case also means 'not a heck of a lot of street lights', so if you do want to push on down to the end, give yourself enough daylight to do so. 
If you're hip then you're no doubt already heard about the Jordaan, but have you checked out the Roze gracht which serves as one of this neighborhood's bookends? The Roze Gracht used to be a canal, as the name implies, but was filled in. Today, it's one of the city's major thoroughfares westerards with most people using it to push on through into the city or outwards into the western part of the city.
The thing is, if you're looking for kooky and different shops, then make sure you don't just plow right on through. The street has a lot going for it, including two carnival shops to buy outfits for the city's many parties, an alternative lifestyle store (think gems and their healing properties), dutch cuisine restaurants and more. 
Another benefit is that prices here are most definitely lower than in the center, so it's a great place to pick up a few souvenirs, presents and other tidbits for those who want to take something home. Here, just like in other parts of the city, the further you wander, the more 'authentic' the experience gets.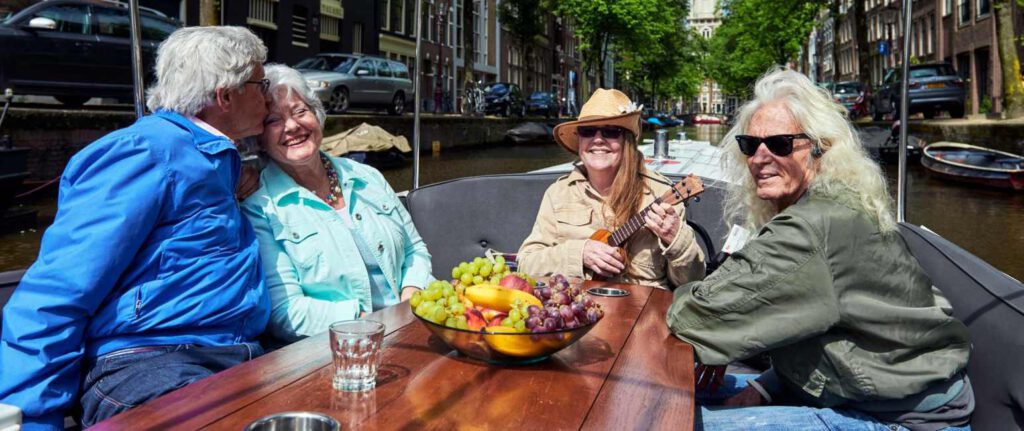 Sign Up for our Newsletter: